Published Wednesday, May 8th, 2019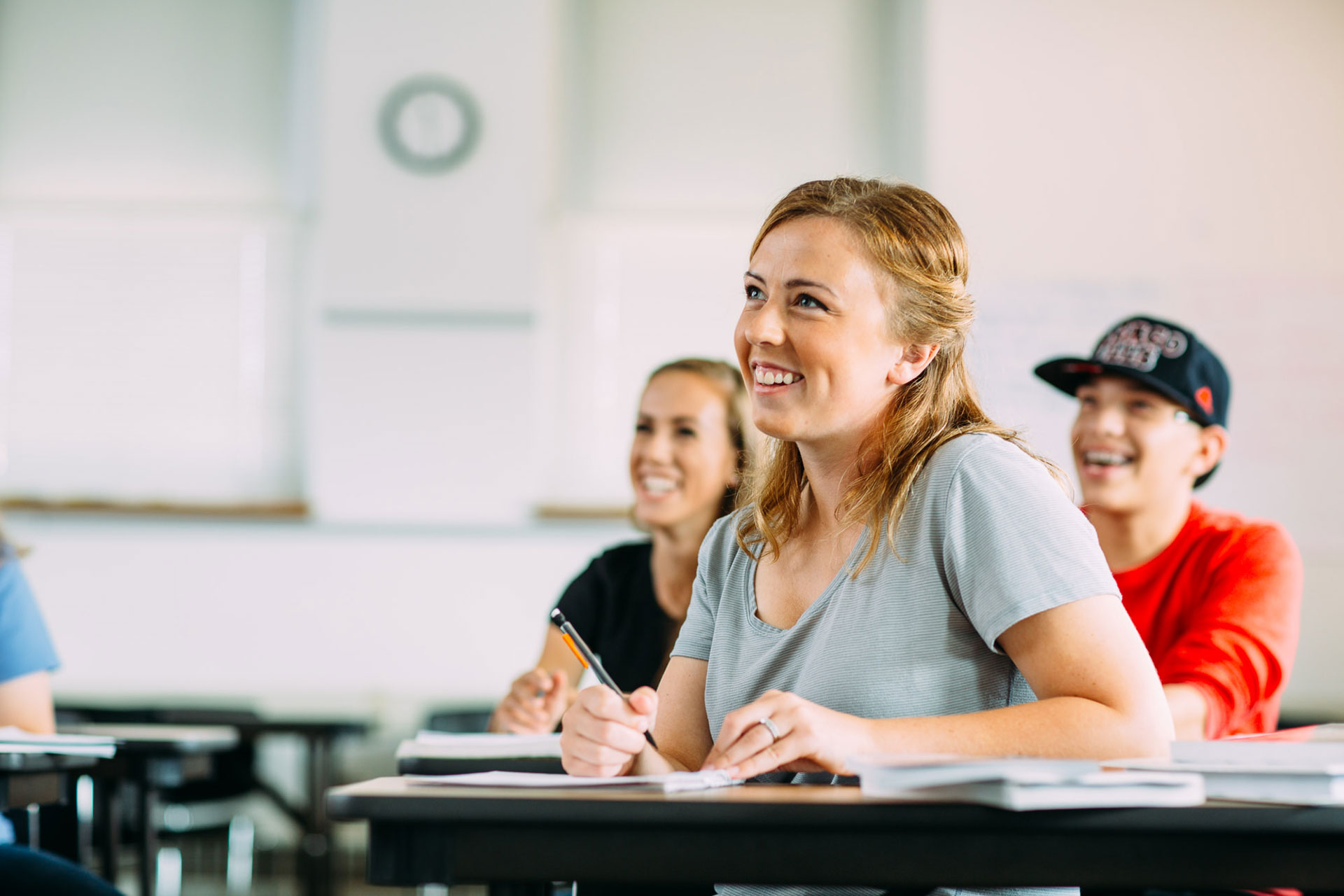 The Students to Teachers Through Educator Pathways (STEP) program offers a five-course sequence for high school students interested in becoming the next generation of teachers.
Wayne State College (WSC) and Norfolk Public Schools (NPS) have joined together to create a Students to Teachers Through Educator Pathways (STEP) program designed to create a solid career education pathway for high school students who have a passion for becoming the next generation of teachers.
According to the agreement approved by WSC, NPS, and the Nebraska State College System Board of Trustees in March, the STEP partnership embodies equity, affordability, and excellence. Eligible and capable students are given access to college-level pre-professional education courses at a reduced dual credit tuition rate. Furthermore, by completing key pre-professional courses, students will have greater accessibility to a variety of teaching endorsement options and opportunities while at Wayne State College, thus increasing their marketability by adding valuable skillsets to their education to better serve future students and schools,
"The partnership matters because it immediately reduces the cost of tuition to earn a college degree by taking the pre-professional sequence as dual-credit during their senior year in high school," said Dr. Nicholas Shudak, Dean of the School of Education and Counseling at WSC. "Second, it matters to the student who will then have the opportunity to earn multiple endorsements prior to graduation. Third, it matters to school districts because districts will have access to candidates who are day-one-ready to make an impact on all students through the high-leverage skills and techniques learned while earning multiple teaching endorsements in Nebraska."
The program of study is a five-course sequence available to members of the high school student organization Educators Rising, or other interested students:
Exploration of Education and Training, a non-dual credit, non-fee based course created and delivered by NPS
Introduction to Education, a dual credit, fee-based course created by WSC and delivered by either NPS or WSC
Human Growth and Cognitive Development, a dual credit, fee-based course created by WSC and delivered by WSC or NPS
PK-12 Instructional Design, a dual credit, fee-based course created by WSC and delivered by WSC or NPS
NDE Rule 47 Field Experience, a non-fee based, non-dual credit course created and delivered by NPS (in consultation with WSC and to align with Rule 47), which will be delivered during the senior year, recommended to be taken in conjunction with EDU 275 to help students reflect on instructional design elements of classrooms when out in the field.
"STEP is the outgrowth of collaborative work between WSC and Norfolk Public Schools to leverage the talent and resources across three different educational sectors (higher education, school district, state department of education) to innovatively change the way teachers are meaningfully recruited and prepared for their world of work," Shudak said.
Norfolk Public Schools has spent the last three years developing a comprehensive career academy program at Norfolk High School. These academies provide opportunities for students to develop college and career readiness skills in 12 different career paths.
Mr. Derek Ippensen, Norfolk High School Principal, said, "The STEP program and our new Education Career Academy is a natural addition to our 12 existing career academy offerings and is a perfect fit in our efforts to prepare all students to pursue their goals for the future. The fact that we can help our students pursue their goals in a timely and cost effective manner only makes it better. We are excited to work with WSC as, together, we prepare Norfolk High School students to become the next generation of teachers."
In addition to providing outstanding career and college readiness opportunities for Norfolk High School students, the school district is also excited about the hiring potential of the WSC graduates that have participated in this new initiative.
Dr. Jami Jo Thompson, Superintendent of Norfolk Public Schools, said, "Norfolk Public Schools is excited to offer this outstanding new opportunity for students. It broadens the scope of our existing career academies and expands our collaboration with Wayne State College. As our district continues to grow in enrollment and we look to hire new teachers, we are also able to appreciate the future benefits of this new program. Students entering college after participating in STEP at WSC will have opportunities to expand their teaching skills, and when graduating from college will be able to bring those additional skills to the hiring table. This new STEP program will allow more of those new teachers to enter the workforce dually endorsed, which will better prepare them to be successful 'day one' in our classrooms. It is a win-win-win situation: a win for our students, a win for NPS, and a win for WSC!"