Published Monday, March 4th, 2019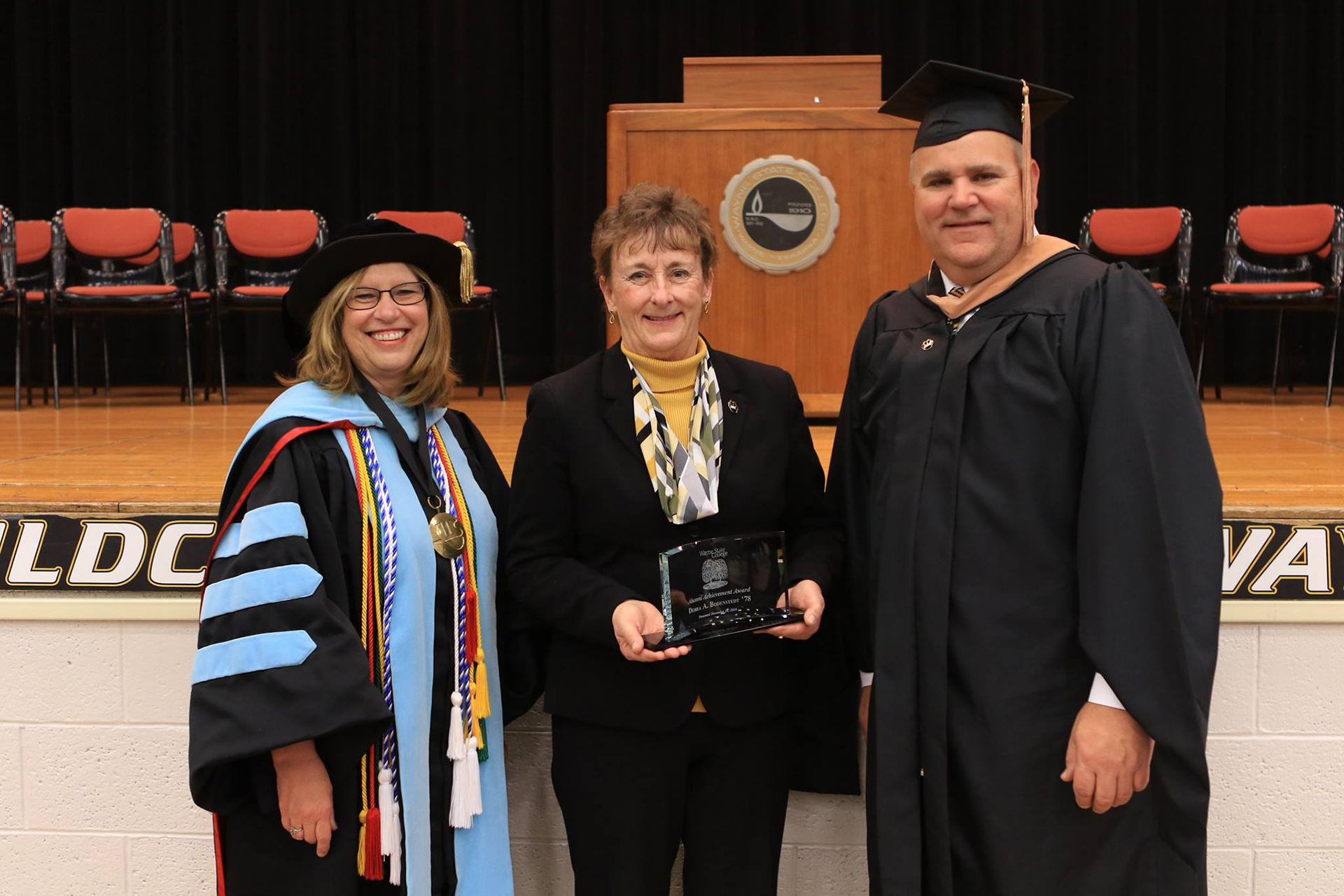 After earning her B.A. in Education, Bodenstedt went on to serve in the U.S. Navy for 27 years.
Debra Bodenstedt was born and raised in Wayne County. Her education began in the same one-room rural school her father had attended. She graduated from Wayne High School and earned her Bachelor of Arts in Education from Wayne State in 1978.
While at Wayne State, she participated in varsity volleyball and softball, German Club, Panhellenic Council, Student Council, Chi Omega sorority, and myriad intramural sports. She taught high school for three years before joining the United States Navy, earning her commission as an Ensign at Officer Candidate School in March 1983.
Bodenstedt's 27 years in the military was marked by distinguished service. She was the first woman to qualify as a Submarine Rescue Chamber operator while assigned temporarily onboard USS Kittiwake. She participated as a diver in the Space Shuttle Challenger salvage. She served as Commanding Officer Consolidated Divers Unit in San Diego from March 1998 to May 2000, where her divers completed the first double in-water aircraft carrier propeller change on USS John C. Stennis, and maintained the Navy's only certified underwater welding team. She participated as a diver in the historic salvage of the Civil War vessel USS Monitor and oversaw the ordnance salvage efforts for USS Cole after the suicide bombing in Yemen.
She was inducted into the Women Divers Hall of Fame in 2002, the Women in Military Service Memorial in 2008, and was recognized as a Hometown Hero by Modern Woodmen of America in 2017. Her personal military service awards are the Legion of Merit, Defense Meritorious Service Medal with oak leaf cluster, Meritorious Service Medal with gold star, Navy Commendation Medal (three gold stars), Joint Service Achievement Medal, and Navy & Marine Corps Achievement Medal.
Captain Bodenstedt retired from active duty in August 2010. After military retirement, Bodenstedt immersed herself in her new home town of Yankton, S.D. She has served as director of the Red Cross and volunteered as a disaster responder. She is an active member of Habitat for Humanity, an officer with the VFW, American Legion, and the regional director for IRS/AARP volunteer tax preparation at the local Senior Center. She has served as vice chair for the county Republican Party for six years and as a delegate to the 2012 National Republican Convention. She is nearing completion of her first four-year term as a Yankton County Commissioner. She currently is vice chair of the commission.
Bodenstedt was selected by the governor of South Dakota in 2015 to chair the commissioning committee of the USS South Dakota.
Bodenstedt participates in Senior Games, qualifying and attending four national contests, winning a bronze and silver medal in badminton and softball. She was selected as 2017 South Dakota Senior Games female athlete of the year.