Published Friday, December 7th, 2018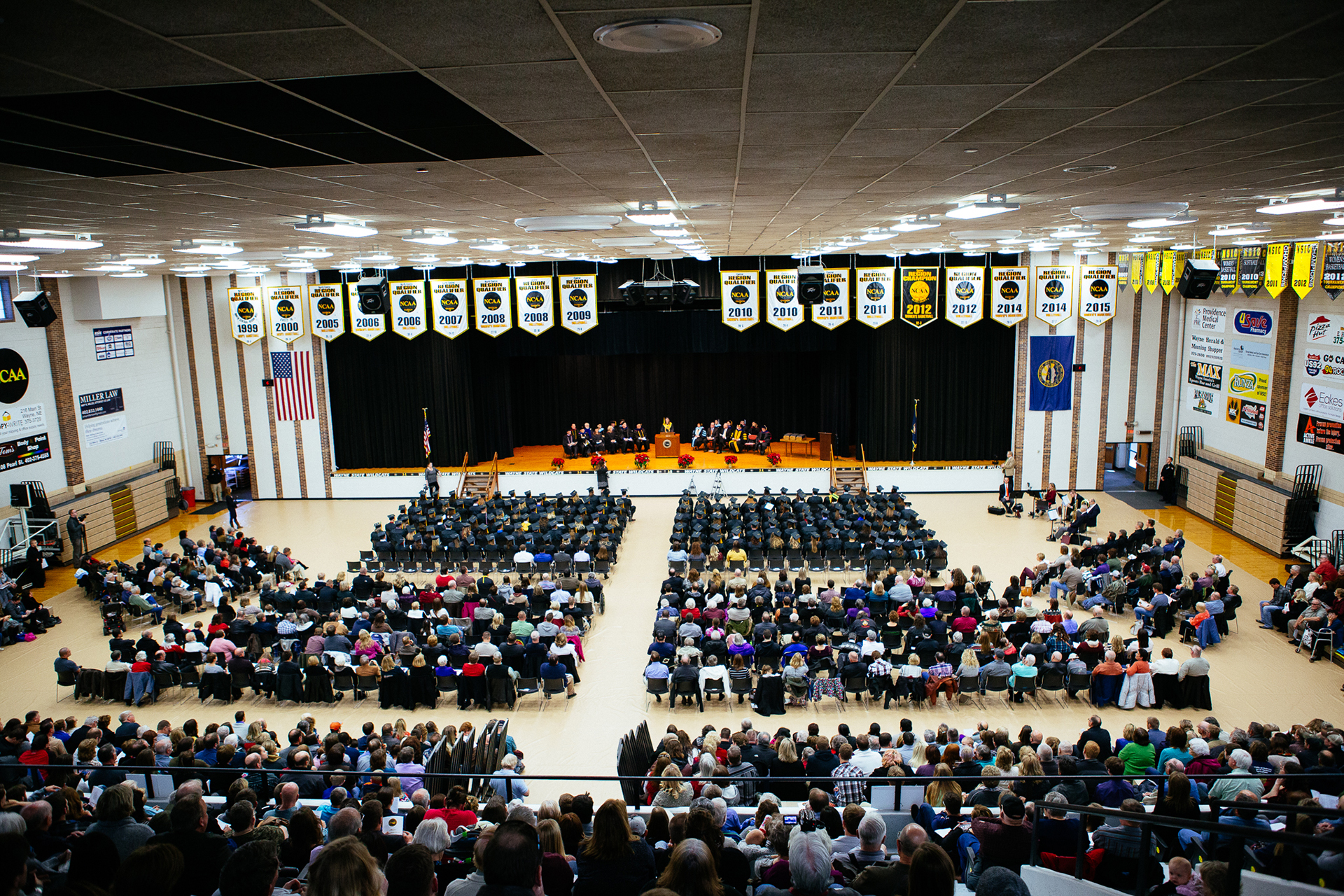 A total of 200 degrees will be conferred by President Marysz Rames at the commencement ceremony Dec. 14.
Wayne State College will hold a commencement ceremony for graduate and undergraduate students at 1:30 p.m. Dec. 14 in Rice Auditorium. A total of 200 degrees will be conferred by President Marysz Rames. Those students receiving their degrees include 150 undergraduates and 50 graduate students of the college's Master of Science in Education, Master of Organizational Management, Master of Business Administration, and Education Specialist programs.
For additional ceremony information, please visit www.wsc.edu/graduation.
Melody Martin, Invocation Speaker
Melody Martin of Blair, Neb., will deliver the invocation during the graduation ceremony. She is earning her Bachelor of Science degree. She is the daughter of Lori Martin of Round Rock, Texas.
Martin majored in K-12 instrumental and vocal music education. She was named an Outstanding Freshman Music Student and was a member of Alpha Lambda Delta academic honor society. Her activities included Wind Ensemble, Marching Band, Clarinet Choir, and the National Association for Music Education.
Martin plans to move to Texas and teach middle or high school band in the fall.
Lacey Chantel Brooks, Undergraduate Commencement Speaker
Lacey Chantel Brooks of Norfolk, Neb., will deliver the undergraduate commencement address. She is earning her Bachelor of Science degree. She is the daughter of Miles and Annette Kerber of Norfolk, Neb.
Brooks majored in speech communication with emphases in organizational leadership and public relations. Her honors include Lambda Pi Eta Honor Society and Alpha Sigma Lambda Honor Society. She served as the secretary of the Agricultural Communicators of Tomorrow Club.
She plans to attain employment and hold a position that is communications related somewhere around the Norfolk area. Lacey is married to Todd Brooks, who graduated from Wayne State in 2013 with a Bachelor of Science degree in criminal justice.
Megan Gebhardt, Graduate Commencement Speaker
Megan Gebhardt of Norfolk, Nebraska, will deliver the graduate commencement address. She is earning a Master of Business Administration degree. She is the daughter of Leon and Kathy Gebhardt of Norfolk.
Gebhardt earned her bachelor's degree in finance from Wayne State College in May 2017, graduating Summa cum Laude. Her awards as a Wayne State student included the Delta Sigma Pi scholarship Key, 2017 business student of the year, the Presidential Scholar award (2014-2018), and Female Honor Student-Athlete of the year (2016 and 2017). She was a member of Sigma Beta Delta Business Honorary Society, Delta Sigma Pi Professional Business Fraternity, Phi Kappa Phi Academic National Honor Society, and the President's Philomathean Honorary Society. She participated in volunteer programs including the Wayne Green Team, WSC Student Food Pantry, Mercy Meals, Wayne youth volleyball programs, and went on a mission trip to Malawi, Africa, through her church in the summer of 2018.
As a setter for the Wayne State volleyball team, she was named to the Academic All-American Second Team in 2017. She is ranked fifth in WSC history for all-time set assists with 3,315. She played on a team that made three trips to the NCAA Division II national tournament, including one appearance in the final four in 2015.
Gebhardt plans to work in the loan and finance department at BankFirst in Norfolk, Neb.
Debra A. Bodenstedt '78, Alumni Achievement Award
Debra Bodenstedt will receive the Alumni Achievement Award during the ceremony. Bodenstedt was born and raised in Wayne County. Her education began in the same one-room rural school her father had attended. She graduated from Wayne High School and earned her Bachelor of Arts in education from Wayne State in 1978. While at Wayne State, she participated in varsity volleyball and softball, German Club, Panhellenic Council, Student Council, Chi Omega sorority, and myriad intramural sports. She taught high school for three years before joining the United States Navy, earning her commission as an Ensign at Officer Candidate School in March 1983.