Published Thursday, January 18th, 2018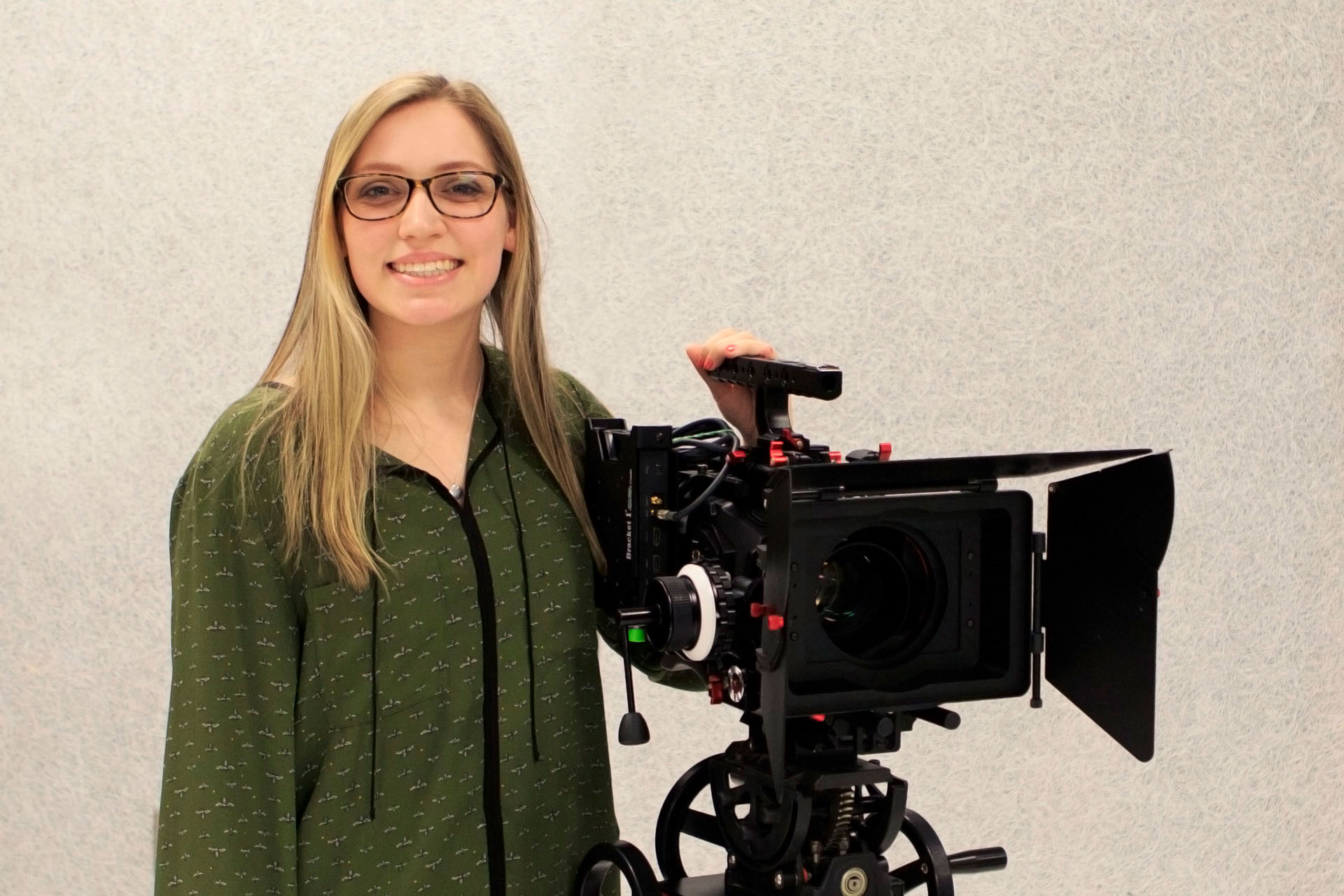 The electronic media alumna reflects on her time at WSC, which greatly contributed to her graduate school success.
Morgan Stough '17, a recent Wayne State graduate from Bellevue, Neb., who decided halfway through her senior year she wanted to pursue a master's degree in film, said she missed the application deadline for "every film school in the country."
But nevermind that – after graduating with a degree in electronic media from WSC last spring, Stough is currently in her first year of a two-year program at Columbia College, a very prestigious film school in Chicago, working on her MFA in creative producing. She said only 10 to 20 students get into the school's film programs every year.
Since she decided almost too late that she wanted to pursue film, Stough didn't even begin her application until the week of the school's technical deadline. A last-minute conversation with the school gave her a glimpse of hope, however, telling her they did not send the applications for review until the end of the week that it was due.
A strong commitment to her passion, which she discovered while at Wayne, and a close relationship with her professors at WSC drove her to the seemingly impossible – getting an application together in just a few days, which other students across the country had months to prepare for. She skipped class, hardly ate or slept, and was able to obtain the needed recommendation letters from media faculty Drs. Mike White and Mike Marek in order to submit her application – something she said she could not have done at a larger school where her professors wouldn't have known her as well as they do here.
"Almost every professor I had at WSC knew me by name and had a genuine interest in my academic and personal success, and were willing to go the extra mile to help me when needed," she said.
When Stough began at WSC, she originally wanted to follow the journalism path, hoping to someday work in a television newsroom. After a broadcast internship in Omaha, she realized that wasn't where she wanted to end up – she wanted more time to create and develop video material.
The education she chose at Wayne State, though, proved to be a great choice on her path to film school. Though she had minimum film experience in particular, the journalism and media classes she took at WSC gave her a strong foundation to build upon.
"It's worth it to become an expert in your field," she said. "It says a lot about you as a person that you put a lot of time and effort towards something."
Stough built this strong foundation in media, but she added that the other opportunities available to her at Wayne also contributed to her graduate success. She was able to take other courses that helped build a diverse portfolio and expand her skill set.
"I entered film school having had my hands in a few different areas that have all proven beneficial to me in my graduate career, including graphic design and copy editing," she said. "I would encourage everyone at Wayne to take an elective course or two outside of their department and explore their interests. You never know when your future employer might need someone who has extra skills, and that could be what gets you ahead in your career."
Other keys to success, she said, are simple – hard work and spirit, networking and making connections, and being willing to start at the bottom and work your way up.
Another thing she credits to her Wayne State education was that during her time here, the journalism program was going through some transitions, and "there was a different dynamic here each year." Before the program changed to emphasize electronic media and current technology, as it is now, she was challenged to be more creative with less means.
"I had to learn how to use my resources well. I can do a lot with a very small amount," she said, adding that the challenge made her better able to succeed with the low budgets she deals with for her current films.
Stough pointed out that Columbia College was similar to Wayne State in a positive way – wherever you go, they are recognized, thought of favorably, and have a reputation of good work ethic and of using resources well.
She is certainly connecting the skills and work ethic she learned at WSC to blossom in the big city. The relationships she built here are still part of her life as well. One of her film projects includes a story written for The Judas Goat (a literary magazine published by WSC Press featuring students' work) by fellow Wayne State graduate Kaylee Hathaway '17, entitled "All the Times I Joked About Murder and the One Time I Didn't."
Stough will also start work on her thesis this year, planning an adaptation for "The Yellow Wallpaper," a story she said she fell in love with after reading it in Dr. Andrew Alexander's literature class her freshman year.
With all of these tools and experiences now in her arsenal, Stough looks forward to taking more classes and building connections in Los Angeles. She reflects on her time at Wayne State and how it brought her to this point, to a situation that seemed unimaginable at one time. In addition to the flexibility and variety of opportunities at Wayne, she said the support and relationships played the biggest part in her success.
"In my time at Wayne state, I could always count on the faculty having my back and pushing me to accomplish great things," she said. "As I watch the college grow and change, I can see that same supportive and encouraging environment continue to flourish at Wayne State."