Published Sunday, December 3rd, 2017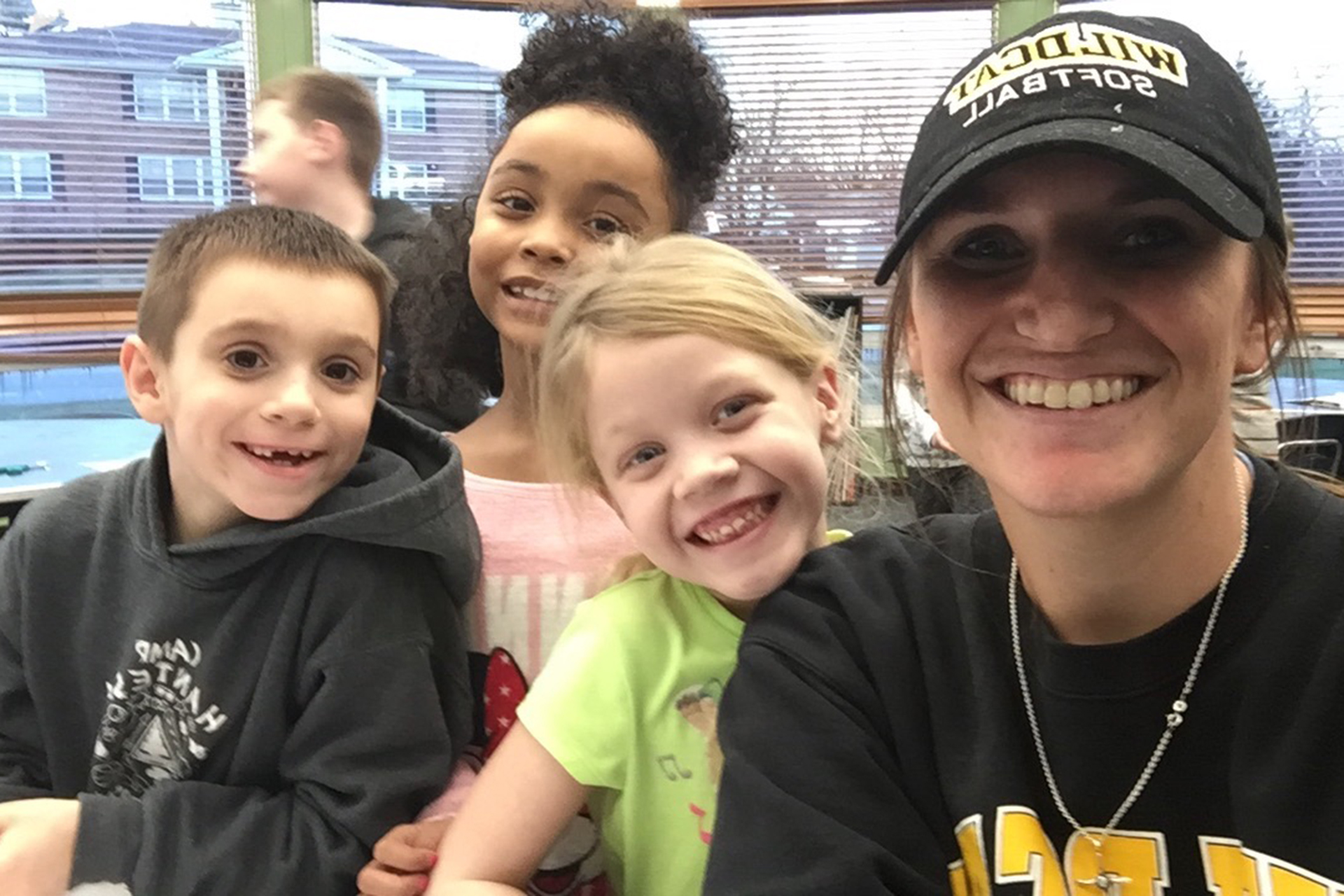 A former Wildcat softball player and graduate of WSC found her "sweet spot" working with children grades one through five and now serves as a program director at Camp Fire Heart of Iowa.
Jennifer Radley, a 2011 graduate of Wayne State College, found the perfect place to combine her love of kids and sports at Camp Fire Heart of Iowa, a non-profit organization that specializes in youth development, summer day camps, clubs, and before- and after-school programs.
Radley is the program director for Camp Fire, whose philosophy is helping each individual who comes through its doors find their spark and light the fire within.
"My biggest joy in working with the kids at Camp Fire is seeing the progress they make in such a short time, the friendships they build, and the fun they have," Radley said. "Having kids, no matter what age, always wanting to show you what they've drawn, asking you to play cards, or just telling you about their day is such a joy."
As a director, Radley helps with summer day camp programming in the Des Moines area and manages the before- and after-school programs for various elementary schools in the area.
Radley's journey to find her passions of sports and working with kids began at Wayne State. After she graduated from Des Moines East High School in 2007, she signed a scholarship to play softball at WSC.
"Being the 'city' girl I was, my world had been opened up to a whole different way of life after visiting Wayne," Radley said. "The campus, the professor I met with, and the coaches on my campus visit made me feel right at home."
Radley majored in psychology with a minor in sociology. She recalls two of her favorite professors, Dr. Gloria Lawrence and Dr. Jean Karlen, who shared their passions of the subjects they taught and got to know their students as individuals.
While attending WSC, Radley played softball for four years. During those four years, her team made it to the NSIC Conference Tournament four times, Regional Tournament three times, and Super Regional once, breaking team records. Radley also holds individual records. After graduating, Radley became a graduate assistant for two years before moving on to be a full-time assistant softball coach at Buena Vista University in Storm Lake, Iowa.
"My time at BVU is where I realized my sweet spot was working with kids from grades one through five," Radley said. "I coached a third and fourth grade little league team for one year, and that's where my passion of working with kids sparked."
Radley also said she realized she enjoyed working with school-aged youth during Wayne State's fundamental camps and clinics for softball. That passion continued to grow with additional camps and clinics, coaching in little league, and now, her time at Camp Fire.
"I can genuinely say I am in the right place at the right time," Radley said. "I have been able to help campers with disabilities find joy and passion, help them learn how to adapt to different social situations, and see them grow with their relationship-building. Not only can you see that the kids appreciate you, but the families appreciate the attention to detail their children are receiving.
"Needless to say, my journey from Des Moines to Wayne to Storm Lake has shaped me into the person I am today. The people, relationships, and kids I've worked with throughout my life have made a lasting impression on me."