Published Wednesday, November 8th, 2017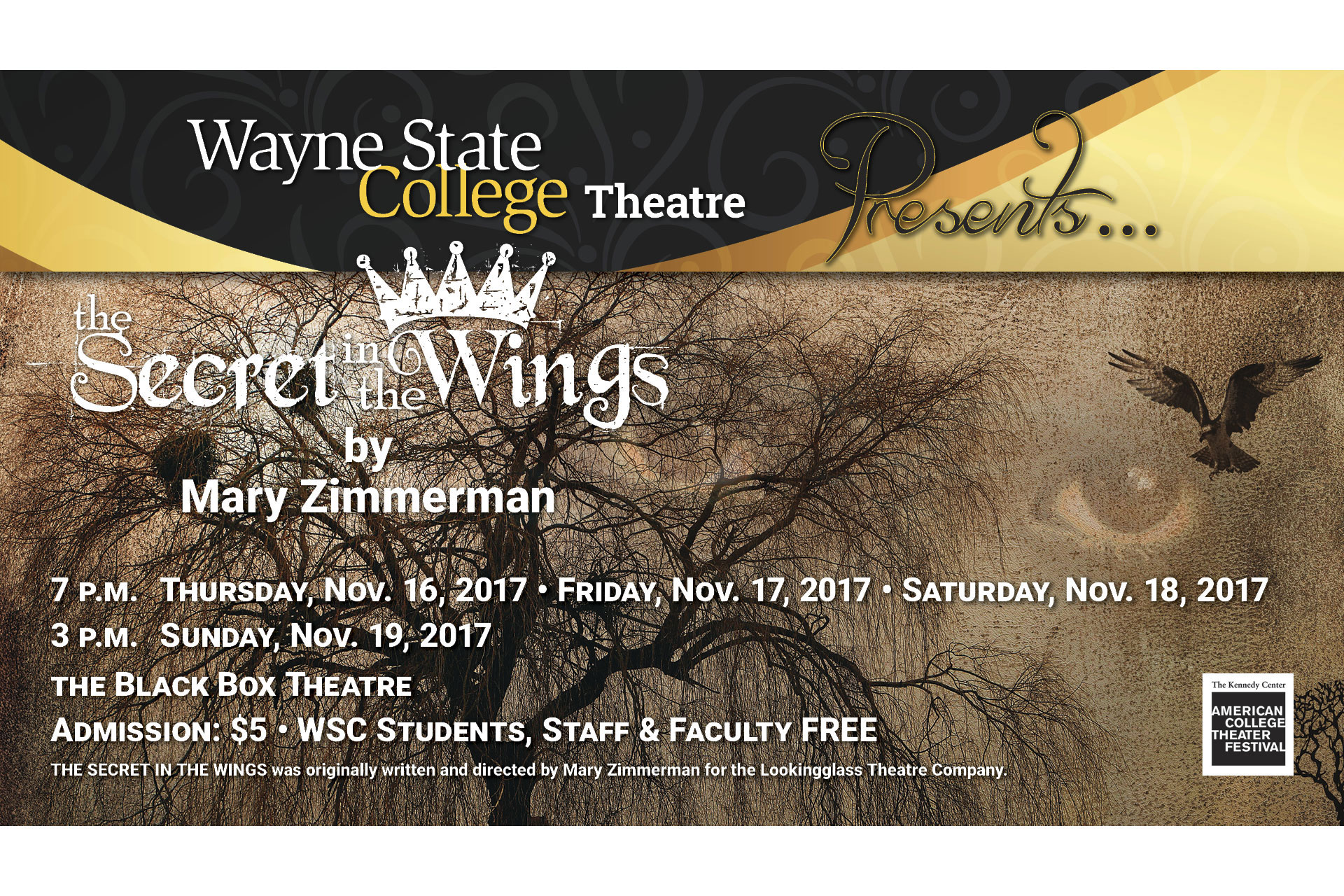 The play will be held at WSC on Nov. 16-18 at 7 p.m. and Nov. 19 at 3 p.m.
Suspense, surprise, and levity loom large in "The Secret in the Wings" by playwright Mary Zimmerman. Wayne State College proudly presents this imaginative play Thursday through Saturday, Nov. 16-18, at 7 p.m. and again on Sunday, Nov. 19, at 3 p.m.
All shows take place in the Black Box Theatre located in the Lied Performing Arts Annex of the Peterson Fine Arts Building. Ticket prices are $5 per person, with free admission for Wayne State College students, faculty, and staff. Tickets are available at the door, with no reserved seats. Seating is limited.
"The Secret in the Wings" is a visual exploration through a dreamlike world of obscure fairy tales. The show begins with Mady's parents leaving her with their neighbor, Mr. Bjorklund, for a night out. Mady believes Mr. Bjorklund is a monster, which her parents dismiss as childish nonsense. As the babysitter begins to read a storybook, characters come to life with one story overlapping another just at the brink of disaster. Inventive lighting and a minimalist stage add theatrical flair and mystery.
The cast and crew includes WSC students, faculty, and community members. Mollie Spieker directs the play as an adjunct instructor, assisted by Claire Barnes of Wayne. Tabitha Belmont of Newport is stage manager with assistant Kyrstin Hughes of Pleasanton. Cast members include: Victoria McNamara and Seinna Garner of Omaha, Amanda Hartman of Schuyler, Hope Pedersen of Norfolk, Julia Baxter of Plattsmouth, Kristin Jindra of Pilger, Madalynne Stubbendick of Syracuse, Benjamin Bjorklund of Wakefield, Dakota Schroll of Wood River, James Walton of O'Neill, Skyler Stefanski of Lincoln, Austin Burkhardt of Winnetoon, Trevor McQuay of Magnet, and Eric Dalavirus of Wayne.
Mary Zimmerman, a native Nebraskan and Tony Award winner, wrote "The Secret in the Wings." She is a founding member of Lookingglass Theatre Company in Chicago, which specializes in taking classic stories and staging them in unexpected, interesting ways. Wayne State College will produce "The Secret in the Wings" by special arrangement with Bruce Ostler, BRET ADAMS, LTD., 448 West 44th Street, New York, NY 10036. Visit the agency's website at www.bretadamsltd.net.
For more information, contact Mollie Spieker at mospiek1@wsc.