Published Monday, August 14th, 2017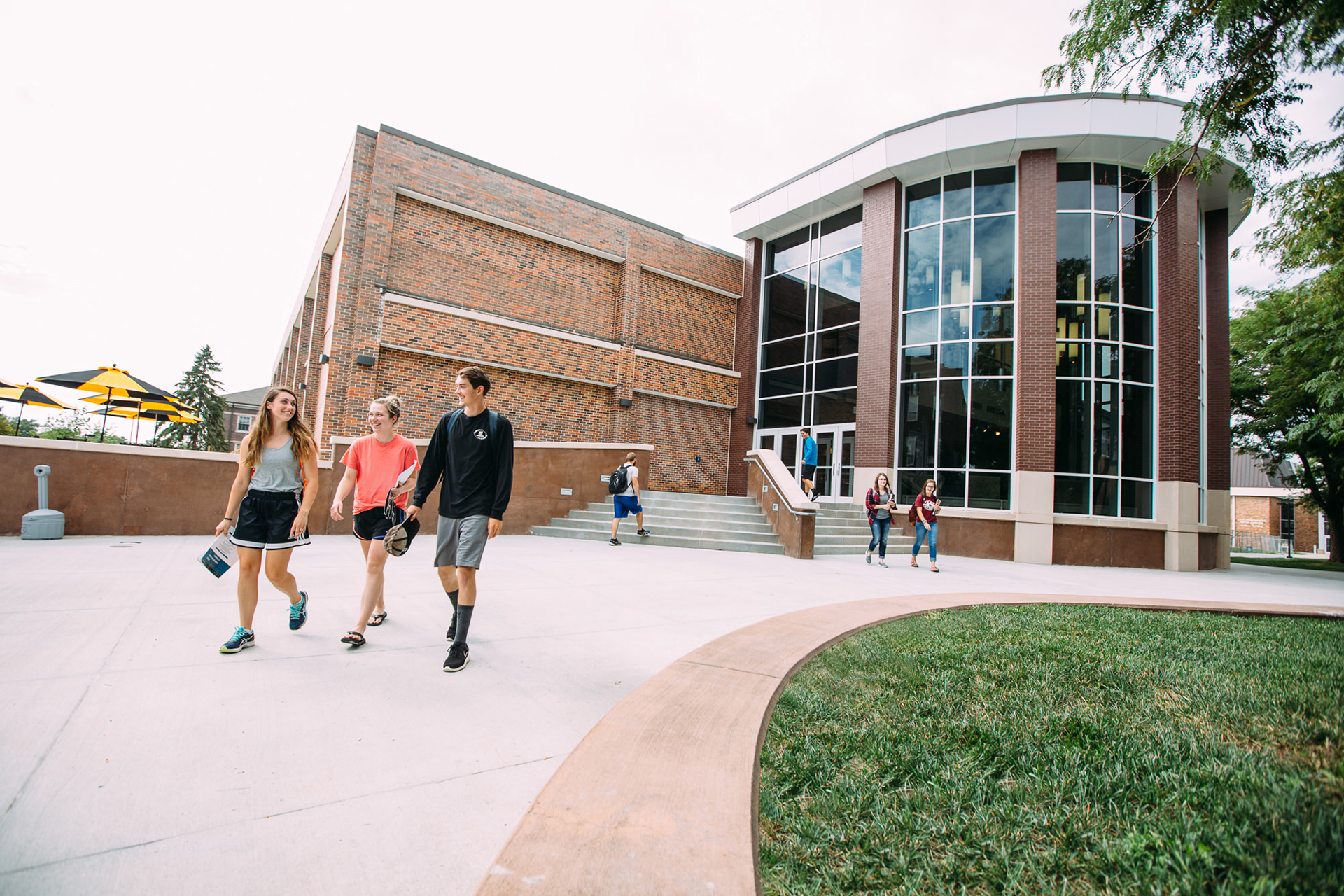 Students, alumni, and donors reflect on the campus's change and growth.
Completed Projects
U.S. CONN LIBRARY
The library renovations were completed in summer 2017. Along with updating building systems, the main entrance to the library was added and rooms renovated.
What is your favorite spot on campus?
"The tables outside the library, because it's a nice place to get some sun, relax/chat, and have a Jitters fruit smoothie." – Jaden Todd, Criminal Justice, Fountain Valley, Calif.
"Our beautiful new library." – Ria Pedersen, Organizational Leadership and Public Relations, Hartington
"We support WSC and its mission to educate future generations of young people. To do that, you need facilities that are inviting and functional. The remodeled Conn Library is much more than that. As we have seen in our visits to the campus, the students are thrilled with this building and are using it day and night. In today's technological environment, we are surprised every time we visit the 'new' library, how many students are still using libraries! It is something to be proud of and a major improvement to the campus." – C. James and Barbara K. '76 Kanter
BOWEN HALL
Completed and open for students in fall 2017; dorm room, bathroom, and lounges renovated.
"I loved living in Bowen Hall. The community was wonderful, and there was always someone to talk to if you needed a brain break. There were always good laughs with floormates in the lobby, and I made fond memories there. Bowen really became my home away from home and made the transition to college really easy and enjoyable." – Victoria McNamara, Resident Assistant 2017-18
WILLOW BOWL
The Willow Bowl was first completed in 1938, evolving from what was originally a campus lake completed in 1922. The restoration was completed in 2013, including new cement structure and new trees.
"My favorite place on campus is the Willow Bowl! It's a beautiful place to go study, hang out with friends, and participate in other college activities that are held there. I also love how beautiful it always looks throughout the changes of the seasons!" – Asia Berg '16, B.S. Sport Management (now works for WSC as an admissions representative)
"After I got out of the Navy in December 1947, I enrolled at Midland University. One day in January, the basketball team needed a bus driver to take them to Wayne State, so I volunteered. When we got to campus, I saw the Willow Bowl for the first time, with a light winter snow, and fell in love. That summer, I transferred from Midland and enrolled at WSC in August. Seeing and sitting in that Willow Bowl changed my life from then on. I knew I had to come to Wayne State." – Irv Hoffbauer '51
Planned Projects
CENTER FOR APPLIED TECHNOLOGY (CAT)
This $15.2-million building will provide Northeast Nebraska with a facility to train students in industrial technology. Nebraska is one of the top three states with the fastest growth in technology jobs. In May, the City of Wayne provided $1 million in support of the new building, which has helped secure nearly $2 million in donations. Construction has started and is scheduled to be completed in December 2018.
"I support the Center for Applied Technology project because the state of Nebraska needs technical education to continue its growth, and Wayne State has been the only school of the four-year colleges in the state that has consistently stayed with the technical education program. And by expanding with the Center for Applied Technology, they'll be able to help Nebraska's future." – Terry McClain '70
"The Center for Applied Technology is going to make me a better teacher by giving me the most advanced tools out there. The coolest thing about the (industrial technology) program is all the different technology you get to use in the in-class labs. And the faculty are really great to work with. They're always encouraging and trying to push you to be a better educator. If you don't know something, they're super easy to approach and always willing to help you with a project." – Jacob Henderson, Industrial Arts Education, Ida Grove, Iowa
CRIMINAL JUSTICE LABORATORY
Wayne State will complete construction of the new Criminal Justice Crime Scene Investigation Facility in 2018. The lab will provide a variety of academic experiences: managing hostage situations, active shooter scenarios, and building searches; crime scene investigation with an emphasis on evidence documentation, bloodstain spatter analysis, fingerprint acquisition, firearm trajectories, and shoeprint casings; crime scene reporting for future journalists; emergency management exercises; processing a crime scene with DNA evidence; use of evidence in a trial case for pre-law students; and fluid and arson analyses.
"My professors have hands-on knowledge in the fields of criminal justice and law. It's great learning from their real-life experiences. Wayne State has given me the knowledge to set myself up for the future." – Bobby St. Pierre, Criminal Justice and Pre-Law, Windsor, Ontario, Canada
"We recently heard a presentation by a crime scene investigator with the Omaha Police. It is clearly a technical job requiring significant expertise and is very important to solve many crimes. A dedicated facility to enact crime scenes for training investigators seemed like a great idea, and we wanted to support the Criminal Justice Lab at WSC." – Adrian (Johnson '68) and Jon Minks
PRESS BOX
This approximately $3-million project will add needed space and a more modern environment for media and fans. The campaign benefits our exceptional student-athletes and dedicated coaches, and provides players the Wildcat experience in competition, in the classroom, and in the community. The Wayne State Foundation has raised more than $1.1 million to support this project.
"The new press box will greatly improve the game management operations by providing a significantly increased amount of usable work space. It will create a better working environment for local and regional media outlets who provide important coverage and publicity for Wayne State College. The press box also serves as a vital and practical educational setting for our students who learn how to produce and coordinate the WSC television and radio broadcasts. Currently the space and technology limitations restrict enhancing these educational experiences for our students in these majors. This new facility will also create a universal space on the lower level, which can be used the entire year. In addition, this area will be available for a variety of other important functions throughout the year, such as student-athlete recruitment, team meeting space, alumni functions, and educational workspace for WSC mass communication students." – Mike Powicki, WSC Athletic Director
"I have worked with several Wayne State athletic directors and presidents over the years who all wanted to upgrade our football field. Now that we have a beautiful, top-notch football field, our press box needs to match. There is such a broad group of people that benefit from the press box – our bands, broadcasters, whoever is on the field. This is a project people should support when we look at how many students are affected. We also need to make our facilities handicap-accessible when they haven't been before. This new press box will only add to the great environment that's created at the stadium." – Kirk Gardner, Gardner Foundation
"Some of the happiest years of my life were the ones I spent as a WSC student-athlete. The press box renovations and the continued facilities improvement projects show prospective students and alumni the college's commitment to excellence. I chose to contribute to again honor the legacy of my coach, teacher, mentor, and friend, Dr. LeRoy Simpson." – Don Rinehart '77
A Reflection from Marie Sander Skillman '73
My "good old days" at Wayne State College were 1969 to 1973. I lived in Berry Hall, a co-ed dorm with a women's side, a men's side, and a lobby open to residents of both sexes. Women had a curfew. Men did not. I recall the dorm council's victory getting a milk machine installed in the lobby but cringe when I realize it was placed next to the cigarette machine. Yes, things have changed. Our rooms had no refrigerators. We used the window sill in the winter. Microwave? No, a popcorn popper. The telephone (one per floor) was down the hall, and the "ringtone" was an intercom call from the operator in the lobby.
Board included three meals per day at the cafeteria, where one entrée was served at each meal. There were not choices and definitely not options for vegetarians or non-GMO. I'm sure that has changed.
Having supper at "The Gag" meant going through the doors and up some steps. Seated on both sides of the doors were the jocks, laughing like crazy at their jokes.
In the library, we did research for term papers and signed up for time to type them – quite possibly on a manual typewriter. Also in the library was the audio-visual laboratory where future teachers learned to operate a film projector and microfiche reader. Has that ever changed!
In dormitories, classrooms, bars, and bowling alleys, students from small towns met students from cities; onlychildren met kids from large families; thoughts on war, religion, politics, and life were shared. Friends were made. In my case, many lifelong friends. I hope that has not changed!
Marie Sander Skillman currently lives in San Diego.
A Reflection from Darold Bobier '46
When I was in high school and lived in South Sioux City, I was recruited to play football and run track at Wayne State College. Two athletes from Wayne State came to visit me, but I had already made up my mind that I was going to Wayne State. I had a neighbor who was a Wayne Stater, and he had many good things to say. The Sioux City Journal published a photo of me with the headline "Wayne State may get him." I think that's why they sent them to visit me. I did participate in both. I was a pole vaulter and long jumper in track, and James Morrison was the football coach at the time.
When I attended WSC, the cost for tuition was 50 cents per semester hour. It cost us $8 for 16 credits per semester. It was $2 per week for our room, and I lived in Terrace Hall, a men's dorm at the time. My last two years at Wayne State, I was a monitor in Terrace, which is now called a resident assistant. Terrace Hall provided a great living experience for me. I was active in a lot of ways on campus, including being involved in the president's student advisory group.
My wife, Maxine ('45 two-year certificate), and I enjoy coming back to campus. We have so many fond memories. I know I can attribute my career success to WSC. Wow, so much has changed on campus — all of the new buildings, the high rise dorm, the new business building, the student center. I could go on! One thing that hasn't changed is the kindness of the faculty. I remember most fondly the availability of the teachers to provide counseling and help in the classroom. They were always available to answer questions. I was a math education major, and my math advisor was always there to help, and I could always schedule some time if I needed it. I know that is the same today.
Wayne State College holds a very proud place in my heart, and I'm proud to be an alumnus.
Darold '46 and Maxine '45 Bobier currently live in Westminster, Colo.