Published Monday, May 8th, 2017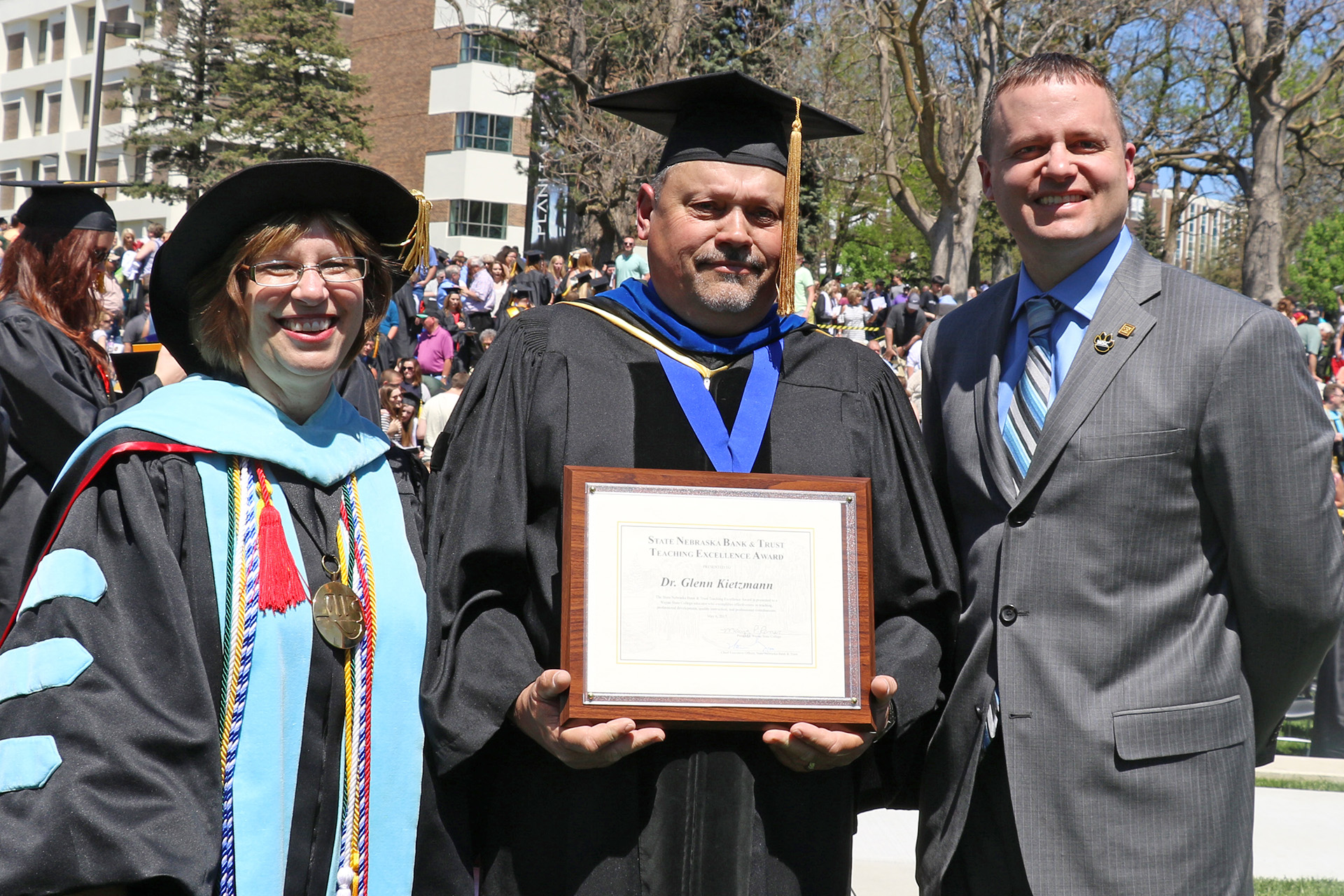 Presented by President Marysz Rames and Matt Ley, CEO of State Nebraska Bank and Trust.
Wayne State proudly announces that Dr. Glenn Kietzmann, professor of biology, was presented the State Nebraska Bank and Trust Teaching Excellence Award and the Nebraska State College System Teaching Excellence Award at the college's May 6 commencement ceremony. Kietzmann has taught at Wayne State since 1989.
Matt Ley, chief executive officer of State Nebraska Bank and Trust in Wayne, presented the bank's award. This prestigious honor recognizes rigorous standards that require a superior level of effective teaching.
David Ley, the banks' chairman of the board, established the award in 1998 to recognize and reward outstanding teaching at Wayne State. State Nebraska Bank and Trust of Wayne supports the college in many ways, including scholarships. David and Matt Ley both serve on the Wayne State Foundation Board of Trustees.
The Nebraska State College System (NSCS) Teaching Excellence Award recognizes the importance of teaching to the mission of serving students, communities, and Nebraska by providing high quality, accessible educational opportunities. To recognize and foster excellence in teaching across all disciplines at all NSCS colleges, each year a faculty member within the college system is awarded the Teaching Excellence Award by the Board of Trustees. The award recognizes superior teaching, innovative instructional practice, high educational standards, creation of productive learning environments, and the ability to inspire and motivate students. A faculty member who is held in the highest esteem by colleagues and students is nominated from each college and a single recipient is selected by the Board.
Kietzmann earned his Ph.D. in 1988, at Iowa State University-Ames, his master of science degree in 1983, at South Dakota State University-Brookings, and his bachelor of science degree in 1981, at South Dakota State University-Brookings.
Keitzmann is a member of Phi Kappa Phi, Sigma Xi, American Society of Parasitologists, Helminthological Society of Washington, Nebraska Academy of Sciences, and past member of the Nebraska Sustainable Agriculture Society. He is a recipient of the Burlington Northern Foundation Faculty Achievement Award for excellence in teaching, as well as the Professor of the Year Award for the Mathematics/Science Division at Wayne State.
Kietzmann teaches human anatomy, histology, parasitology, comparative vertebrate anatomy, biology concepts, and general education biology. He helped create the Rural Health Opportunities Program (RHOP) at Wayne State and has been involved with the program since it began at the college in 1990. He advises pre-nursing and biology students in the Life Sciences Department at the college.
"The following comes as a testament to and an acknowledgement of the great teachers I encountered during my own education, which has not yet ended," Kietzmann said. "There is no greater responsibility and honor for the teacher than to be entrusted with the developing mind and heart of the student that has great desire to do good for all of humanity and who has great courage to eliminate evil in the world."