Published Thursday, May 4th, 2017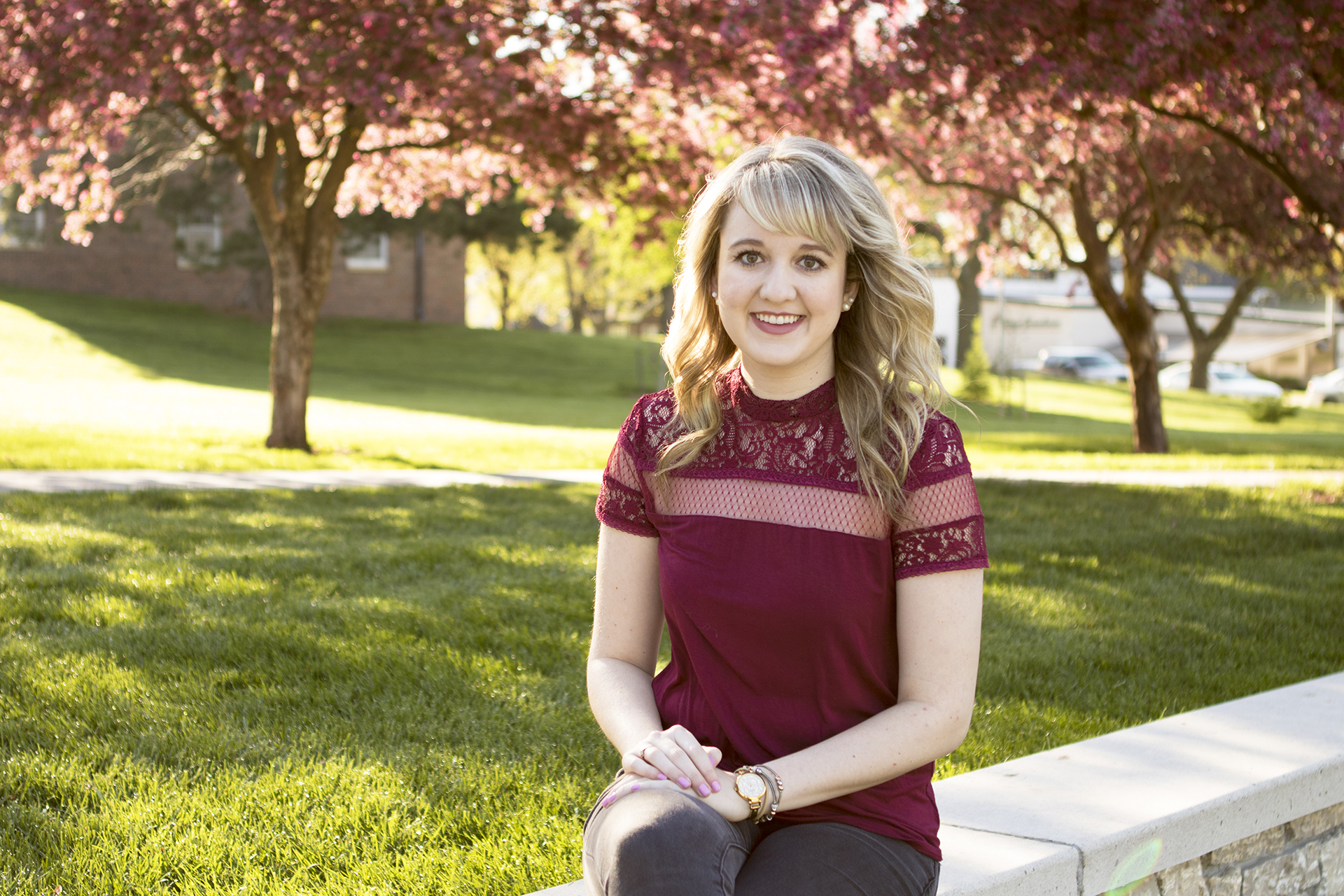 Kylie Keller will graduate from WSC with a bachelor's degree in child life studies, a major created through WSC's interdisciplinary studies program.
Kylie Keller's mission in life is to give back.
As a survivor of childhood cancer, a kind-hearted young lady, and a soon-to-be graduate of Wayne State College, Keller is equipped to do just that. Keller, who will take part in Wayne State's graduation ceremony on Saturday, acquired acute lymphoblastic leukemia (ALL) when she was 3 years old and came off treatment when she was 6. This experience led her to pursue a degree that would allow her to counsel children who are also suffering in the medical world.
"After surviving cancer, I knew I always wanted to go back into the medical field," Keller said. "So many people gave to me in various ways when I was sick, and I knew I wanted to serve others in that way."
For a while, Keller thought about becoming a doctor or a nurse. Then she learned of a particular career in health care called a child life specialist.
According to the Child Life Association, child life specialists are pediatric health care professionals who work with children and families in hospitals and other settings to help them cope with the challenges of hospitalization, illness, and disability. They provide interventions such as therapeutic play, preparation, and education that reduce fear, anxiety, and pain for infants, children, and youth. Their overall role is to help improve patient and family care, satisfaction, and overall experience in the hospital.
"Once I heard of this career path, I felt this overwhelming sense of peace knowing that I could be a light for these families in such a hard time," Keller said. "I wanted to be the medical professional working alongside of them through preparation, play, etc., instead of doing the medical procedures to them. Don't get me wrong, all the professionals in the hospital setting are needed and have such a huge impact on the lives of patients, but the comforting side is where I knew I belonged."
Keller's college education has been a little different than most students', however. In order to get the right degree to qualify for a career as a child life specialist, Keller created her own major at Wayne State through the interdisciplinary studies program. She will graduate with a bachelor's degree in child life studies, a program combining the early childhood and human service counseling majors, and a minor in family life studies.
Wayne State offers more than 90 programs of study, but if the major a student is looking for does not fall under one of these, students have an option to work with an academic advisor to develop an interdisciplinary studies major or minor. Through this program, students can select courses in one department and supporting work in at least one other department to provide flexibility in determining the content of his or her degree program. Such majors or minors must be declared prior to completion of 80 hours and are subject to approval of department chairs and the Vice President for Academic Affairs.
Though Wayne State did not offer exactly the major she wanted, it didn't take long for Keller to know this is where she belonged. Her mother attended WSC, so it was on her list of colleges when she was deciding, but it took a visit to find out for sure.
"I wasn't really considering Wayne as an option, because I didn't even know where it was," said Keller, who is a native of Logan, Iowa. "But after visiting the college, I got the sense of this as the place I should be. Everyone was so welcoming and more than willing to help, which just made me feel so at home."
Not only did Keller enjoy the welcoming environment of WSC, but when she discovered she would be able to pursue the education she wanted, the decision was made. With the help of the family and consumer sciences faculty, she put together her degree plan.
"This was truly a huge factor in choosing to come to WSC – knowing that I had people behind me, willing to help and create a major that got me to this point of graduating," she said. "My advisor, Dr. Pam Langlie-Willers, was very helpful throughout my college career of making sure a plan was in place of what classes I should be taking. I cannot thank her, the family and consumer sciences department, and the counseling department enough for helping me in this career choice."
She said the Career Services office was also helpful and understanding in setting up all of her required practicum hours.
In addition to the education she has received at WSC, Keller has been involved in several campus organizations with many opportunities. She was accepted into the Wildcat Academy of Leadership and Knowledge (WALK) program, which she said taught her leadership skills and pushed her to become involved in other programs as a freshman. She was also part of the Early Childhood Association club, a TRiO peer mentor, the treasurer and co-president of Campus Crusade for Christ (CRU), and a member of the Alpha Lambda Delta and Chi Alpha Epsilon honor societies. She also has been a volunteer at Brookdale Nursing Home in Wayne, which she has done every week since her freshman year, doing activities including nails, calling Bingo, games, and making cards.
"Wayne has given me an experience I could have never imagined," she said. "I am very thankful for all the opportunities I've experienced during my time at Wayne State College."
This summer, Keller will complete two practicums that will fulfill her degree requirements. First, she will be at Children's Hospital in Omaha learning from a child life specialist and working hands-on with patients and families. She will also complete hours at Project Harmony with the Child Saving Institute in Omaha, where she will be working with foster children.
Keller said having cancer herself has made her more passionate about caring for others who are ill. She credits the Lord, as well as the doctors and nurses, in saving her life and giving her a purpose to fulfill.
"Surviving cancer has been a life-changing event in my life and is an event I wouldn't change for the world," she said. "It has made me the person I am today! That experience at a young age has given me a different outlook on life itself. I do not take anything for granted, and I use my abilities to their full potential. Life is too short to not pursue dreams, happiness, and the Lord.
"All my doctors and nurses were given the skills and knowledge by the grace of God to save my life. And to this day, I do not know why. The Lord completely changed my life and my family's lives by giving us the obstacle of cancer, but it has shaped us to be the people and family we are today because of it. I do believe the Lord kept me here to impact the lives of many people in the medical world, being one of few that understands what these patients and families are going through."
Keller will still need to complete an official internship under a child life specialist, which she plans to do next spring. She said the child life field is competitive, but she is willing to keep her options open for any location in the United States. She knows this is the plan for her.
"I am honestly very excited to become a child life specialist, because I know with all that I have gone through, this is the path God has created for me," she said.
Keller will walk in Saturday's graduation ceremony, though she will not officially receive her diploma until August after her summer practicum requirements are complete. The undergraduate ceremony will be held at 1 p.m. Saturday in the Willow Bowl.