Published Friday, March 3rd, 2017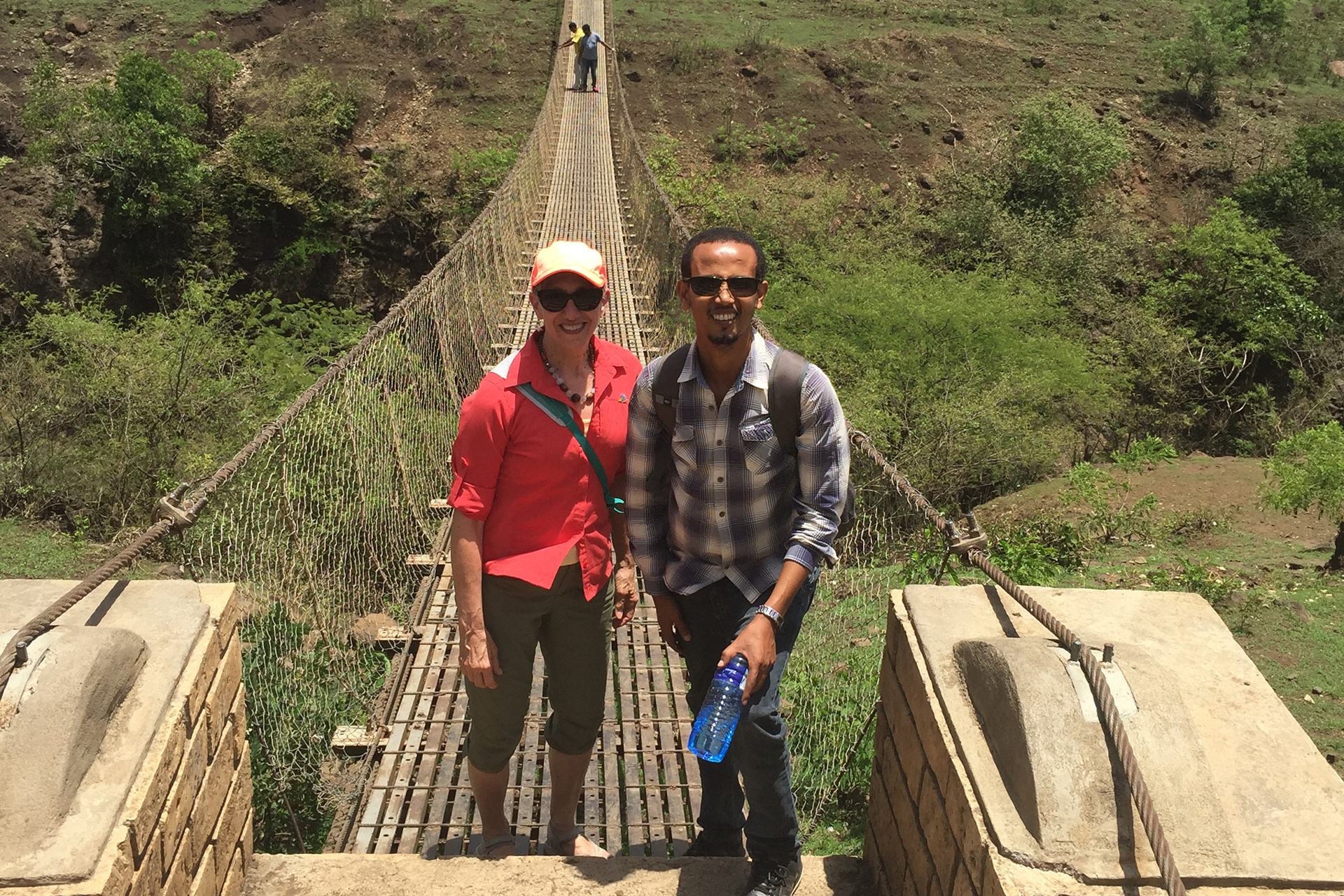 The Fulbright award will assist Engebretsen's efforts to implement the HEARTS Initiative: Engaging Student Health Clubs to Address Hypertension in Ethiopia, Nepal, and Nebraska.
Dr. Barbara Engebretsen, professor of exercise physiology and public and global health at Wayne State College, has been awarded a prestigious Fulbright Global Award by the J. William Fulbright Foreign Scholarship Board. The award will assist Engebretsen's efforts to implement the HEARTS Initiative: Engaging Student Health Clubs to Address Hypertension in Ethiopia, Nepal, and Nebraska.
"I'd like to quote Senator J. William Fulbright, who sponsored the program after WWII," Engebretsen said about her award. "The Fulbright Program aims to bring a little more knowledge, a little more reason, and a little more compassion into world affairs and thereby to increase the chance that nations will learn at last to live in peace and friendship."
"I find comfort in the word 'little,'" Engebretsen said. "The Fulbright Global Scholar Award is a tremendous honor, and I would be crushed by the responsibility of living up to it. But I believe that with like-minded colleagues, we can contribute 'a little knowledge, reason and compassion' to this collaborative work. I'm humbled by the honor. I am also delighted by the important recognition, and more importantly, the opportunity for opening doors and pursuing excellence that it gives to all of WSC, not just me."
"I cannot think of a better scholar that will be able to lead Ethiopian and Nepali students and faculty in global-health service learning activities," said Dr. Tammy Evetovich, dean of the School of Natural and Social Sciences at Wayne State. "Her expertise and passion for global health is apparent and will translate into a strong academic experience for all involved. Not only will this project benefit her international partners, her project will further enrich her scholarly and teaching aspirations by bringing back to WSC experiences gained while teaching and completing research with faculty and students in Ethiopia and Nepal."
Engebretsen said her joint project has been in development since first meeting with international colleagues while on sabbatical in 2015. The Hypertension Education and Resourcing Talented Students (HEARTS) Initiative brings academics, health professionals, and university students together to provide workshops to teach and mentor high school students in the basic physiology of blood pressure, teach skills for measuring BP, and develop health risk survey strategies.
"These high school students - HEARTS Teams - will then lead community screening, community conversations, and development of health promotion and other indicated interventions in their communities," Engebretsen said. "We'll also join all international HEARTS Teams by video conferencing and other social media into 'Global HEARTS Teams' to share understanding, screening data and best practices."
The project also has a strong local connection. Engebretsen explained that she and her team plan to partner with Northeast Nebraska Area Health Education Center in Norfolk – Student Health Club members.
"In Ethiopia and Nepal most high schools have health clubs, so we will recruit students from those clubs," she said. "We are also collaborating with Northeast Nebraska Public Health Department and University of Nebraska Medical Center College of Public Health."
Engebretsen said she decided to apply for the Fulbright Global Award after returning from Ethiopia and Nepal in February 2015.
"I faced a terrible dilemma, having enthusiastic invitations to collaborate from two established institutions – Bahir Dar University College of Medicine and Health Sciences in Ethiopia (BDU) and Children's Hospital for Eyes, ENT and Rehabilitative Services in Kathmandu, Nepal (CHEERS)," she said. "As director of Multicultural and International Programs, Dr. Leah Keino has been an important mentor and advisor from the beginning; she discovered that Fulbright had a new program awarding scholars who were working in two or more countries. She suggested I apply in 2015."
"There were 19 Global Scholars awarded in 2016, and though I was not awarded, we continued to develop collaboration plans, and I returned to BDU in May 2016, joined by Nepal colleague Dr. Subodh Gnyawali. I resubmitted the Fulbright proposal in August. In November, I was notified that the Fulbright Peer Review Committee recommended it to the two embassies in Ethiopia and Nepal. I received notification of alternate status Feb. 7. I was notified about the full award Feb. 28, before another grant proposal I had been writing was due on March 1."
Engebretsen stressed that the award is the culmination of her partnership with several campus administrators and international partners.
"This is not 'my award.' It is 'ours,' she said. "This Fulbright is the result of support, encouragement and contributions from countless 'kindred spirits' here at WSC – especially Leah Keino and Dr. Jeff Carstens, vice president of student affairs at WSC, and colleagues in Ethiopia and Nepal. Becoming a Rotarian with the Wayne Rotary Club in 2010 was without question the most important foundation to this, leading to youth exchange programs, a large humanitarian global grant for water wells in South Sudan, which opened doors in Ethiopia, sponsoring scholarships for World Affairs Seminar in Waukesha, Wis., which opened doors in Nepal."
Engebretsen will travel to Ethiopia and Nepal for two and a half months for two summers. She will plan her work and coordinate closely with the Public Affairs Section of the U.S. Embassy in Ethiopia and the United States Educational Foundation in Nepal.
The J. William Fulbright Foreign Scholarship Board is a presidentially appointed 12-member board responsible for supervising the Fulbright Program worldwide and approving the selection of all Fulbright recipients. Grants come from funds appropriated annually by the U.S. Congress and, in many cases, by contributions from partner countries and the private sector.
The Fulbright Program, which aims to increase mutual understanding between the people of the United States and the people of other countries, is the flagship international educational exchange program sponsored by the U.S. government. Grantees join the ranks of distinguished participants in the program. Fulbright alumni have become heads of state, judges, ambassadors, cabinet ministers, CEOs, and university presidents, as well as leading journalists, artists, scientists, and teachers. They include 58 Nobel Laureates, 82 Pulitzer Prize winners, 31 MacArthur Fellows, 16 Presidential Medal of Freedom recipients, and thousands of leaders across the private, public and non-profit sectors. Since its inception in 1946, more than 370,000 "Fulbrighters" have participated in the program.