Published Friday, December 18th, 2015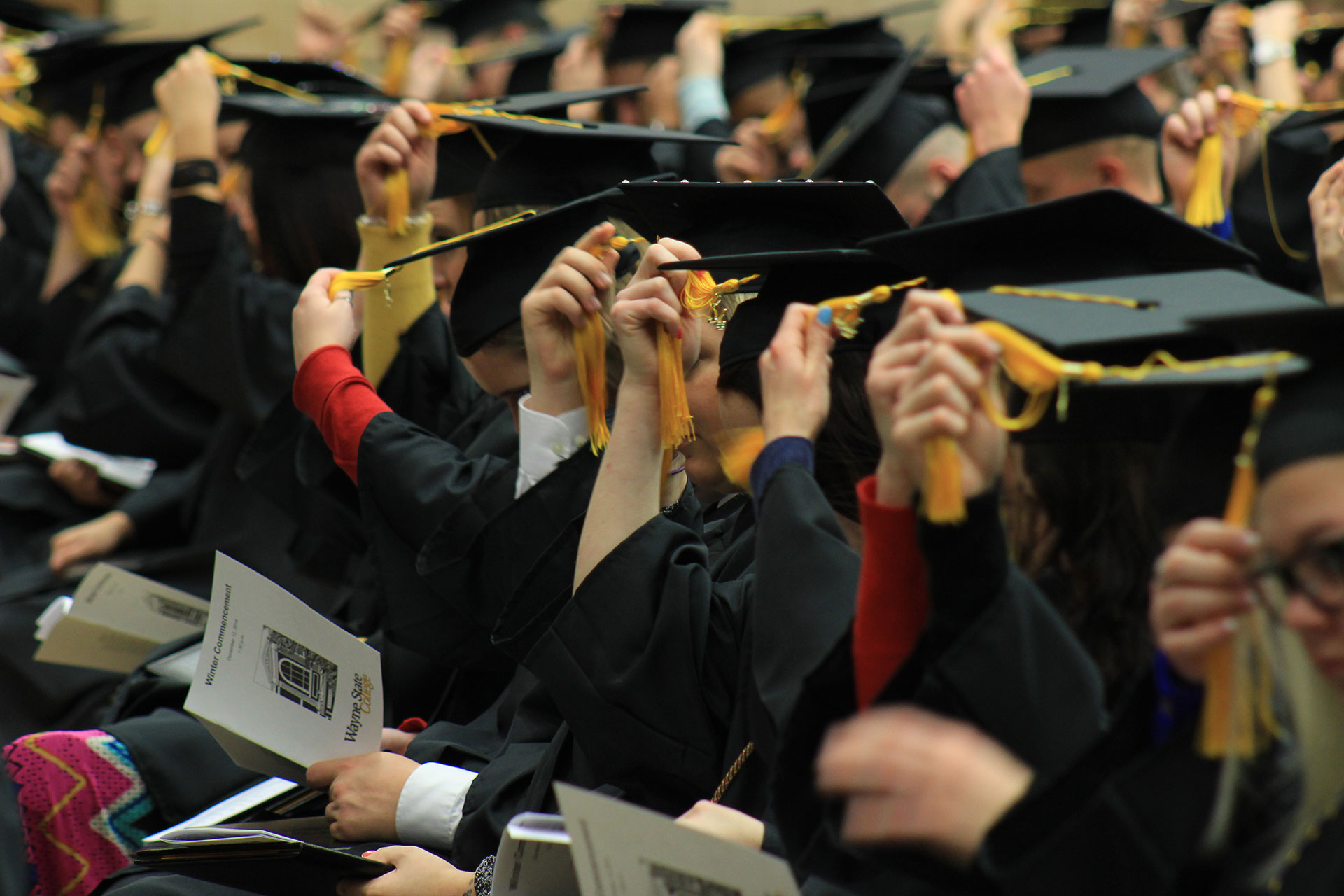 WSC awarded a total of 214 degrees during the winter commencement ceremony Friday, Dec. 18.
Wayne State College hosted commencement for graduate and undergraduate students in Rice Auditorium on campus at 1:30 p.m. on Dec. 18. A total of 214 degrees (174 bachelor's and 40 master's and Education Specialist degrees) wiere conferred at the ceremonies by Wayne State College President Marysz Rames.
View the full list of graduates and honors
Invocation: Meghan Taylor
Meghan Taylor delivered the invocation during the graduation ceremony. She is the daughter of Mindy Brady and David Michal, and James and Amy Taylor.
Taylor majored in K-12 Instrumental and Vocal Music Education. She was the recipient of the John G. Neihardt Scholarship, Ardath Conn Scholarship, and Faith Nuernberger Endowed Memorial Scholarship.
Her activities included two terms as president of the Wayne State Collegiate Chapter of the National Association for Music Education; Wildcat Marching Band drum major for two seasons; Nebraska State Bandmaster's Association Intercollegiate Band participant; the WSC Wind Ensemble, Orchestra, Concert Choir, Chorale, Clarinet Choir, and several other performing ensembles; Cardinal Key; and Gamma Delta Chapter of the honorary band fraternity, Kappa Kappa Psi.
She was the woodwind studio representative for the WSC Honors Recital in fall 2014 and spring 2015; National Association of Music Merchants President's Innovation Award Scholarship recipient; and Wayne State College Outstanding Music Major Award recipient.
Taylor plans to pursue a master's degree in clarinet performance after graduation.
Alumni Achievement Award Winner: Greg Allen
Greg Allen
Greg Allen, a 1974 graduate of Wayne State, received the Alumni Achievement Award. He has served as senior vice president of real estate management with Farmers Mutual of Nebraska since 2013.
Allen's first job out of college was with Farmers Mutual of Nebraska. He started his career in the claims department, where he held numerous positions before being promoted to vice president of claims in 1994. He was promoted to senior vice president of operations in 2001. He was elected to the company's Board of Directors in 1998 and continues to serve on the board.
He celebrated his 40th year with the company in 2015. Allen also serves on the Downtown Lincoln Association executive board and is a trustee of the Wayne State Foundation and a member of the Executive Committee.
Allen grew up in the north-central Iowa town of Algona. He and his wife, Susan, reside in Lincoln.
Undergraduate Commencement Address: Lindsey Milburn
Lindsey Milburn of Rushville, Neb., delivered the undergraduate commencement address. Milburn is the daughter of Carol Milburn and the late Leonard Milburn of Rushville.
Milburn, a 2012 graduate of Gordon-Rushville High School, majored in Speech Communication, concentrating in Communication Studies. While at Wayne State, she has served as secretary, then president, for the Mu Gamma chapter of Lambda Pi Eta (national communication honor society); a member of the Philomathean President's Honor Society; an admissions Navigator for prospective students; a Know How to Go Ambassador for Education Quest; certified peer educator for the Wayne State Counseling Center; and section leader for the Black & Gold Show Choir.
Milburn traveled to Italy with the Wayne State Music Department in the summer of 2014. She was also a member of Wildcat Public Relations Club; Alpha Lambda Delta Honor Society; Honors Club; and the Student Activities Board. She also participated in three service-learning projects during her time at Wayne State.
Milburn has presented three research studies for the Central States Communication Association over two years and was awarded Top Paper Recipient at the University of Nebraska-Omaha undergraduate Lambda Pi Eta Communication Conference.
Milburn will begin graduate work in the field of organizational and political communication in the fall.
Graduate Commencement Adress: Tina Marie Wickersham
Tina Marie Wickersham of Sioux City, Iowa, delivered the graduate commencement address. She graduated with a Master of Science degree in clinical mental health counseling. She is married to Charlie Wickersham.
Wickersham graduated Summa cum Laude with a bachelor's degree from Wayne State in 2013. She made the Dean's List each semester during her undergraduate and graduate studies at Wayne State. She served as a graduate assistant to the counseling department for four semesters; historian of Chi Sigma Iota National Honor Society (Chi Sigma Lambda chapter); past president of Tau Upsilon Alpha National Honor Society; and was a member of Phi Kappa Phi National Honor Society, American Counseling Association, Nebraska Counseling Association, and Alpha Sigma Lambda National Honor Society.
She obtained her certified alcohol and drug counselor credentials and plans on working as a licensed mental health counselor, with an emphasis on substance abuse, in Iowa.