Published Friday, September 11th, 2015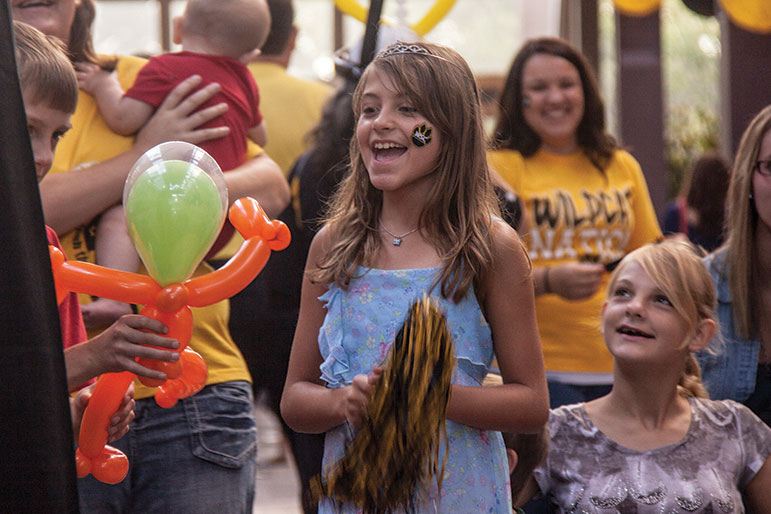 Students, their parents and their siblings are invited to participate in a weekend of family-friendly activities at WSC.
Wayne State College will host Family Day on Sept. 19. The Student Activities Board and the Student Life office will sponsor the activities.
Hospitality will begin in the Kanter Student Center atrium at 10 a.m. Families may pick up a campus map and information about the day's activities.
The balloon brigade and arts crafts will take place in the Kanter Student Center atrium. An open house will be hosted in the academic buildings and residence halls from 10 a.m. to 1 p.m. All academic buildings and residence halls will be open for visitation.
Students' younger siblings are invited to spend the night or the weekend on campus with them. Planetarium shows will be included with free tickets at the Kanter Student Center.
Wayne State College students and their younger siblings will have the opportunity to enjoy a variety of age-appropriate activities throughout the weekend including the WSC recreation facilities, games and crafts.
WSC football players will challenge Northern State on the field at 6 p.m. Marching band, flag corps and yell squad members will perform. Inflatables will be set up at Memorial Stadium in the north endzone.
For more information and a complete list of events, please call 402-375-7213 or visit https://www.wsc.edu/events/event/212/family_day.
Wayne State College, a regional, public four-year college in northeast Nebraska, is a member of the Nebraska State College System.