Visiting Artist Series - "Walls and Bridges"
Show is by artist Terri Parish McGaffin. Show runs through March 18.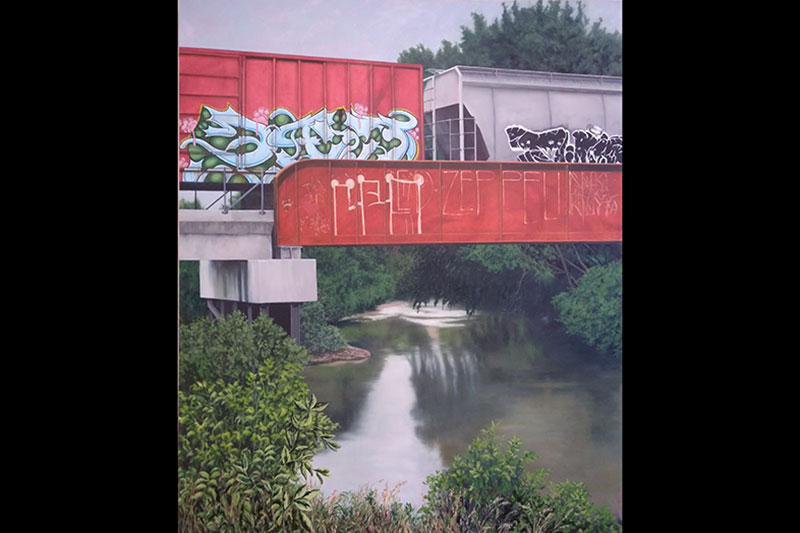 3:45 - 4:15 p.m. Artist's Talk in Gardner Auditorium
4:30 - 5:30 p.m. Opening Reception in Nordstrand Art Gallery
Walls and bridges marred by time. Light dances across the surfaces revealing lines, colors, and shapes. "Walls and Bridges," an exhibit by Terri Parish McGaffin of Sioux City, Iowa, ruminates on such concepts and their connection to humanity. Exhibit events are free and open to the public. Mask-wearing is required. Social distancing is strongly encouraged.
The artist talk will also be livestreamed at www.wsc.edu/watch-live.
The show runs through March 18.
"Driving past a railyard, or waiting in a car for a passing train, can become an art experience like no other," explains McGaffin. "The physical and psychological walls we build are significant, as are the bridges. I reflect on that significance as I paint."
McGaffin's oil paintings have been exhibited throughout Iowa and South Dakota. In 2010, WSC displayed her "Painted Women" exhibit. Selected works have also been exhibited throughout the United States, including Massachusetts, Illinois, Colorado, Florida, Missouri, Kansas, and Nebraska. McGaffin is professor emerita at Morningside College in Sioux City, where she served as associate professor of art. She has worked as a professional artist for many years and has a studio at Gallery 103 in the HoChunk Center in Sioux City. McGaffin holds an MFA in painting from the University of South Dakota-Vermillion and a BFA in drawing and painting from Drake University in Des Moines, Iowa. She also pursued graduate studies in painting at the University of Iowa-Iowa City and completed an artist-in-residency at Waubonsie State Park, Iowa, in March 2020.
The gallery is open Monday through Thursday 9 a.m. to 7 p.m., Friday 9 a.m. to 5 p.m., and Sunday 3 to 7 p.m. It is closed Saturday. Shows end at noon on closing day.
For more information on this exhibit, upcoming shows, or the gallery, visit www.wsc.edu/artgallery or contact gallery director Dr. Andy Haslit, associate professor of art history, at 402-375-7031.