Visiting Artist Series - "Always Never Forget"
Show is by artist Luke Severson and runs through Sept. 24.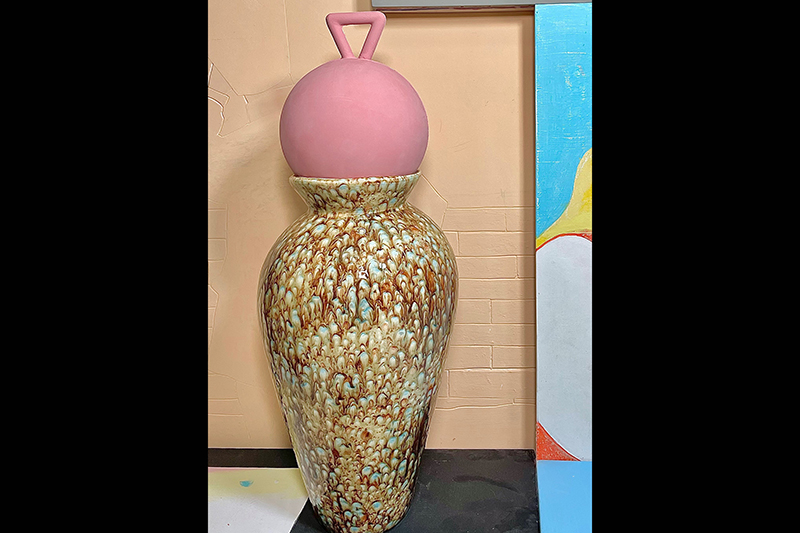 The exhibit, which is free and open to the public, opens at 6 p.m. Sept. 2 and runs through Sept. 24.
An artist's talk has been recorded and made available for viewing on YouTube.
Always Never Forget displays an array of Severson's most recent ceramic stoneware. His work combines disparate sculptures, made at different times, but not used together until now. The result is whimsical, reflecting a studio practice influenced by chance, space, and material. Severson describes his work as "sincere, not serious."
"Always Never Forget is a convoluted way of saying 'remember,'" explains Severson. "It's a play on the idea that memory is malleable and immediately prone to distortion. In this way, remembering is an act of discovery as much as an attempt to recall/replay a of set facts."
A native of northeast Iowa, Severson received his bachelor's degree from the University of Northern Iowa and his master's degree from Kansas State University. He currently works as Instructor of Ceramics at the University of Nebraska-Omaha and is the owner/operator of Morelic, an art-focused
contracting and consulting company specializing in object design and production.
The gallery is open Monday through Thursday 9 a.m. to 7 p.m., Friday 9 a.m. to 5 p.m., and Sunday 3 to 7 p.m. It is closed Saturday. Shows end at noon on closing day.
For more information on this exhibit, upcoming shows, or the gallery, visit www.wsc.edu/artgallery or contact gallery director Dr. Andy Haslit, associate professor of art history, at 402-375-7031.