Make Me Admin - Mac
1. Open Self Service and select Browse.

2. Find Make Me Admin and click Open.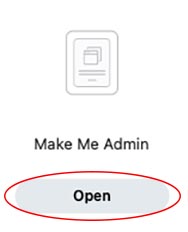 3. A new window will open. Select Request Privileges.

4. You now have admin privileges.
5. After 15 minutes, a new window will appear asking if you would like to retain your elevated privileges. If you no longer need admin privileges, select, No. If you still need more time, select Yes.

Last Updated: 8/8/22