Report Suspicious Email

What is phishing, or online fraud?
Phishing (pronounced: fishing) is an online-fraud technique that is used by criminals to lure you into disclosing your personal information, which then enables the thief to:
Apply for and get credit in your name.
Empty your bank account and charge expenses to the limit of your credit cards.
Remove money from your accounts.
Use a copy of your debit card to withdraw your money from anywhere in the world.
Warning signs
It's likely that fraud is being tried when you are asked to:
Provide personal information to an unknown source.
Verify your account information with the threat of suspending your account.
Sell an item with a promise of payment that is much more than the item is worth.
Make direct monetary donations.
To Report a suspicious email:

1. Open the email and click the Report Message button in the Home tab in the Protection section.
2. Select Phishing. Wayne State College will receive a notification along with the email flagged that it is suspicious.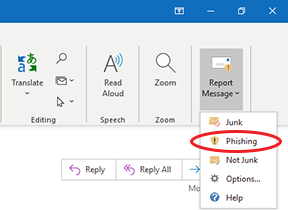 Last Updated: 9/30/19