Send a Print Job - Campus Computer
1. Open the document you want to print and select File > Print.
2. When you send a print job from a campus computer, you will have four printers/FollowMe queues or Direct Print (where applicable) to choose from.
Note: Sharp black and white printers are available in the US Conn Library and Sharp color printers are available in the US Conn Library and the Kanter Student Center. You can print in black and white using a Sharp BW printer.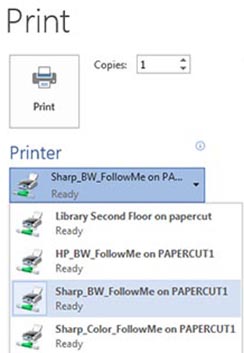 4. Select Print and a new PaperCut window will appear where you will select the account you want to print to. Personal account is for student printing and a Shared Account is for faulty/staff printing. Last, close reminder.
5. To finish printing, go to the printer/copier connected to FollowMe queue you selected to release your item for printing or pickup your print from the printer/copier if you used Direct Print.
Note: Once your print job has been sent to a FollowMe queue, you have 36 hours to finish printing your item at a Release Station.
Please contact the Campus Service Center at 402-375-7107 or visit us in the library for further assistance.
Last Updated: 11/25/2019