Browse Course Catalog on WildcatsOnline
1. Go to the WSC home page, click on myWSC at the top, and log in.
2. Click on WildcatsOnline from the Top Applications section.
3. Select the Enrollment tab
4. In the Shopping Cart section:
- Search for classes by typing a class name, number or subject into the search box.

- A list of possible classes will appear from your search. Click on the correct course and the available sections will appear in a new pop-up window. To enroll in the course, add a class to the Shopping Cart by clicking on the class in the pop-up window. (To enroll in course, see the Registering a Class Help Sheet.)
Note: Open classes will be listed with a green open next to the class name. Closed classes will have a red closed next to the class name.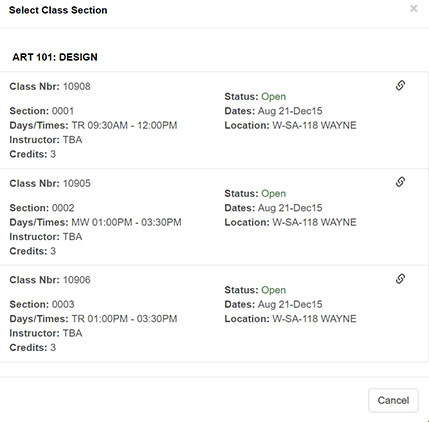 Last Updated: 11/25/2019