WSC Unofficial Transcript
1. Go to the WSC home page, click on myWSC at the top, and log in.
2. Select WildcatsOnline from the Top Applications section.
3. Click the Academics tab > Select View Unofficial Transcript (under My Links on the right hand side of the page)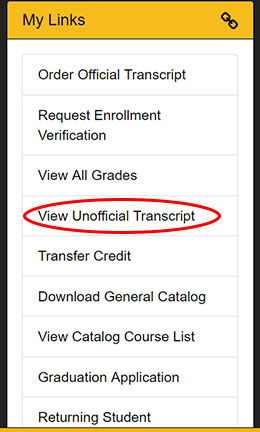 4. Click the View Report button to generate a new unofficial transcript or click on the View All Requested Reports button to view all previously requested unofficial transcripts.

Note: Make sure your pop-up blocker is TURNED OFF on your internet browser for WildcatsOnline before trying to view your transcript.
Last Updated: 9/9/2019