How to Find the MAC Address forXP, VISTA, 7
Windows XP / Windows Vista / Windows 7
1. Open a Command Prompt window by clicking the Start button , clicking Programs or All Programs, clicking Accessories, and then clicking Command Prompt.

2. In the Command Prompt window type ipconfig /all

3. Find the Physical Address line under the section that describes your network adapter. MAC address is listed as six groups of two hexadecimal digits, separated by hyphens (-).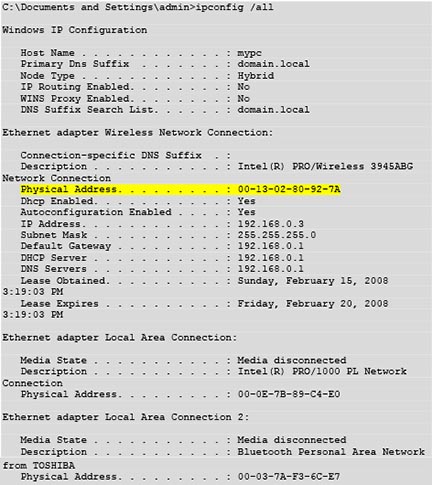 4. Next,
write down
your
MAC Address
and have it ready for
Device Registration
online.
5. Last, shut down your device.
Please contact the WSC Help Desk, at (402) 375-7107, if you are still having problems finding the MAC Address on these devices.
Last Updated: 6/11/15